Access control system
Ideal for use in applications where the reader must be exposed to weather condition

58000 - Dallas reader
58000 - Dallas key reader with remote electronic
Touch Key Reader
Touch Key Reader body in stainless steel, Front plate in anodized aluminium
Front plate dimensions (mm): 105 x 40 x 5
Electronic circuit in grey ABS container
Container dimensions (mm) : 111 x 72 x 29
Operating voltage : 9 Vac / 12 Vdc - Absorbed current : 10 mA in stand-by / 40 mA with relay active
Operating key Dallas (sold separately Ref. 58015)
Supply of 2 Dallas Master system keys of which
1 "Green" programming key
1 "Red" cancellation key
Relay for door opening contact selectable in monostable or bistable mode
Programmable users: 500
Two colour red/green LED for indication of operating status
Anodized silver front plate
Anodized black front plate
Tthe stand-alone system for access control Touch Key is based on the operativity of the Dallas key which, being unique and unrepeatable, provides the highest standards of security

Easy to install and program, can be used for electromechanical lock release, motorisation or, selecting the bistable relay, to arm or disarm an alarm system

User and installation manual (Pdf 1,15 Mb)

58015 - Dallas key
58015 - Dallas key
Touch Key body in chromium plated metal on black ABS support
Touch Key Dimensions (mm): 16 (diameter) x 5
Dimensions of the ABS support (mm): 53 x 15
Operating key Dallas
Key fob in black plastic
Use: Operating key for access control Touch Key.

Note: each Dallas key is unique and unrepeatable and there are no copies. If the key is lost it must be cancelled from the reader memory and replaced with a new one.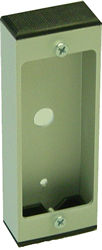 05501 - Container for surface fixing
05501 - Aluminium box for surface fixing
External dimensions (mm): 105 x 40 x 20
Box in silver anodized aluminium
Box in black anodized aluminium