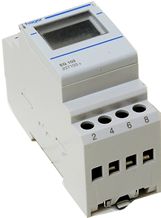 Supply voltage 230 Vac
Frequency 50/60 Hz
Power consumption: max VA 50Hz
Output: 1 changeover volt free contacts.
Product delivered with current time and date set.
Automatic change of winter / summer time.
Programming for day or group of days
Programming key for permanent waivers and for program copy or save.


Use: Weekly timer for automatic opening and closing of electric locks at a preset time. Can be used with magnets, solenoid bolts and D.c. powered electric strikes.